How to Become a Flight Attendant [Career Guide]
How to Become a Flight Attendant -Career Guide. Flight attendants work for private and commercial airlines to keep passengers safe and comfortable. They help passengers get seated, demonstrate how to use the plane's safety equipment and provide food, drink and other services. Legally, all airlines must have flight attendants on staff to ensure passengers' safety. kamerpower.com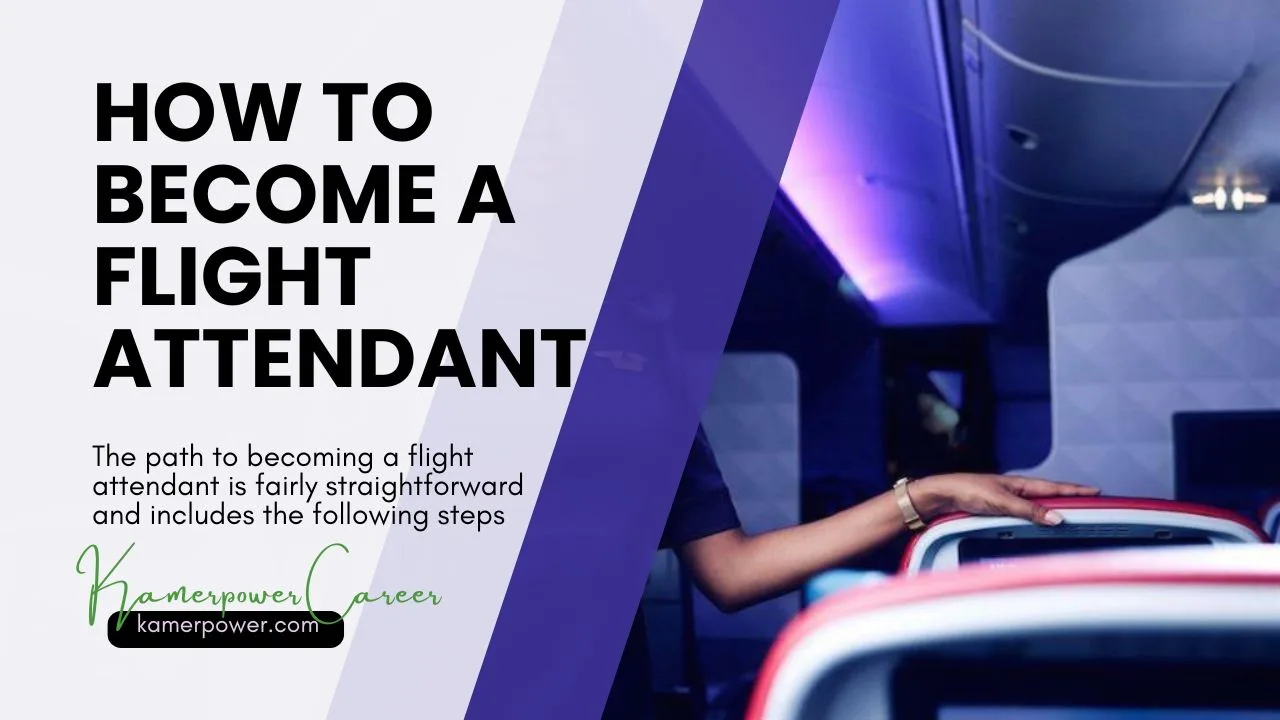 Career Guide – How to become a flight attendant
To be a flight attendant, you must complete training and certification to ensure you can be responsible for passengers' safety and comfort. The path to becoming a flight attendant is fairly straightforward and includes the following steps:
Get a high school diploma. The minimum education requirement for flight attendants is a high school diploma.
Earn a college degree. While most airlines will hire flight attendants without degrees, an associate or bachelor's degree in a field such as public relations could make you more attractive to employers.
Build customer service skills. Work for a year or two in a hospitality or service job to develop your customer service skills. This experience will look good on your resume when applying for flight attendant jobs. You might work at a restaurant, hotel or in any role that requires interacting with people.
Apply for a job. If you are over age 18 and have good health and vision, you can apply for flight attendant positions with various airlines.
Train. If an airline hires you, you will spend several weeks or months in training to prepare for FAA certification. Training courses include safety, first aid, responding to challenging flight or passenger situations, evacuation, putting out fires, survival skills, self-defense and personal health, among others.
Get certified. After you have completed initial training, you must pass the FAA's exam to become certified and legally allowed to work as a flight attendant.
Complete reserve status. New flight attendants start on reserve status. During this time, you must be on call to fill in for other flight attendants or extra flights. This reserve period typically lasts one year.
Advance in your career. After you gain years of experience as a flight attendant, you will likely have the seniority to choose your base, routes and schedule. You might also mentor, recruit, train or manage other flight attendants and help with tasks such as scheduling.
How to Become a Flight Attendant [Career Guide]
How long does it take to become a flight attendant?
The training program for flight attendants is usually three to six weeks. However, it may take months or even years to get into one of these programs. This is a highly competitive field, and open positions usually fill up fast.
What qualifications do you need to be a flight attendant?
You will need to be over the age of 18 to become a member of air cabin crew. The ability to speak a second language is highly desirable. Airlines will usually require a good standard of education, including GCSEs (grades A-C) in maths and English, or equivalent qualifications.
How much do flight attendants earn UK?
Base pay can vary greatly depending on the airline as some pay better than others, but you can expect a starting salary in the region of £12,000 to £14,000. Air cabin crew with experience can expect to earn a base rate of £15,000 to £18,000 a year.
A Step by Step guide on How to Become a Flight Attendant
An airline's flight attendants must be certified by the Federal Aviation Administration (FAA) and receive training from their employer. The minimum educational requirement for flight attendants is a high school diploma or its equivalent and work experience in customer service. Check 12 Top Best Flight Schools in Canada : Aviation Flying Schools.
1. Flight Attendant Training
To become FAA-certified, pilots must train at the airline's flight training center. The airline provides flight attendants with their initial training, which typically lasts between 3 and 6 weeks.
2. Educational Requirement for Flight Attendants:
To become a flight attendant, you typically need a high school diploma. Applicants with some college coursework may be preferred by some airlines. Some airline employees may need to be fluent in a foreign language. Many flight attendants enroll in aviation academies.
3. Licenses, Certifications, and Registrations for Flight Attendants
FAA certification is required for all flight attendants. Certification is earned after completing an employer's training program and passing an exam. Flight attendants are certified to work on specific aircraft types and must undergo specialized training for each type of aircraft they operate.
4. Work Experience in a Related field for Flight Attendants
Before becoming a flight attendant, employees typically need to have 1 or 2 years of service experience. This experience that includes customer service at restaurants, hotels, and resorts can be helpful.
Top companies for Highest Paid Flight Attendants in United States
Southwest Airlines : $51,715 per year
Delta : $45,534 per year
Delta : $44,039 per year
United Airlines : $43,824 per year.
American Airlines : $42,409 per year.
Highest Paid Flight Attendants and Airlines
Airlines flight attendants at United Airlines earn an average salary of $44,219 per year. Beginners can expect to earn only about $28,000 annually, while most experienced flight attendants (top 10%) earn an average of $100,000 annually.
Flight Attendants at Alaskan Airlines earn an average salary of $53,000 annually. Working with one of the highest-paid flight attendants airlines, one can expect annual salaries of $113,000 on average, while beginners can expect an annual salary of $27,000 on average.
Flight attendants at American Airlines earn an average salary of $43,460 annually. Flight attendants with vast experience (top 10%) can expect to earn an average income of $86,000 annually, while novices can expect an annual income of less than $30,000.
How to Become a Flight Attendant [Career Guide]