Cameroon GCE O Level 2015 Biology 1 past Question Paper (Biology 510 GCE Board)
SECTION II
Questions 8-20 (Thirteen questions)

Directions: This group of questions relates to biological diagrams. Select the best answer for each question.
Below is the diagram of the longitudinal section of the kidney


Bowman's capsules are located in the part labelled
A: 6
B: 5
C: 4
D: 1

Where does ultra filtration take place in the kidney?
A: Glomerulus
B: Bowman's capsules
C: Proximal convoluted tubules
D: Collecting duct
The diagram below is that of the longitudinal section of a hibiscus flower.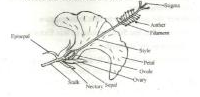 Which part of the above diagram becomes the seed after fertilization?
A: Ovary
B: Stigma
C: Ovule
D: Sepal
Below is the diagram of a motor neuron:

The cell body consists of
A: 1 and 3
B: 1 and 2
C: 1 and 4
D: 1 and 5
Which structure in the vertical section of the a mammalian eye contains a high concentration of cones?
A: Sclera
B: Fovea
C: Choroid
D: Blind spot
The diagram below represents the feeding relationship in an ecosystem.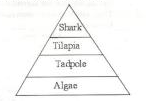 Which level of the pyramid has the least total stored energy?
A Shark
B: Tilapia
C: Tadpole
D: Algae
The function of the structure labeled T on the diagram below is to?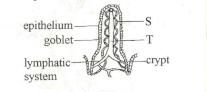 A: Transport amino acid and glucose.
B: Transport fatty acids and glycerol or fats
C: Transport absorbed amino acids
D: Transport absorbed glucose

Which of the following is a hinge joint?
A: Knee joint
B: Shoulder joint
C: Wrist joint
D: Ankle joint

Which part of the brain is concerned with the regulation of heart beat and breathing rate in humans?
A: Cerebellum
B: Cerebrum
C: Medulla oblongata
D: Hypothalamus

The structure that separates the mammalian heart into two parts is?
A: Bicuspid valve
B: Tendon
C: Tricuspid valve
D: Septum

The part of the leaf containing numerous chloroplasts is?
A: Spongy mesophyll
B: Upper epidermis
C: Palisade layer
D: Lower epidermis

The structure that prevents water evaporation from the cells of the spirogyra
A: Cell wall
B: Mucilage
C: Cell membrane.
D: Vacuole

Below is the diagram of a bread mould.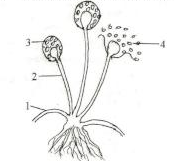 The structure numbered 2 is called?
A: Stolon
B: Hypha
C: Mycelium
D: Sporangiophore
Kamerpower est un hub pour les étudiants, les demandeurs d'emploi et l'annuaire des bourses d'études. Le site fournit des informations informatives gratuites concernant les concours, des opportunités éducatives, Universités, Résultats, Jobs, Stages, Épreuves, Conseils etc, Le meilleur endroit informatif au Cameroun, l'Afrique et africains dans le monde entier.