Cameroon GCE O Level 2015 Biology 1 past Question Paper (Biology 510 GCE Board)
SECTION IV
(Five Questions) Questions 26-30Directions: Each of the following questions consists of a statement in the left-hand column followed by a second statement in the right-hand column.Decide whether the first is true or false.
Decide whether the second is true or false.
Then, on the answer sheet mark as shown in the table below: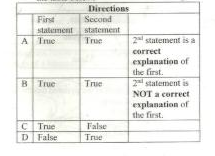 Deforestation leads 
to global warming.
Lack of vegetation increases carbon dioxide concentration in the atmosphere.
Denitrification 
deprives plants of 
nitrates.
Denitrification releases Nitrogen from the soil.
Saprophytic bacteria 
help in the decay of 
dead plants and 
animals.
Saprophytic bacteria reduce soil fertility.
Phagocytic white 
blood cells contribute 
to body defence.
Phagocytes engulf bacteria forming food vacuoles.
Insects undergo 
metamorphosis.
The housefly undergoes incomplete metamorphosis.
Kamerpower est un hub pour les étudiants, les demandeurs d'emploi et l'annuaire des bourses d'études. Le site fournit des informations informatives gratuites concernant les concours, des opportunités éducatives, Universités, Résultats, Jobs, Stages, Épreuves, Conseils etc, Le meilleur endroit informatif au Cameroun, l'Afrique et africains dans le monde entier.