Cameroon GCE O Level 2015 Biology 1 past Question Paper (Biology 510 GCE Board)
SECTION VI
Questions 41-50 (Ten questions)

Directions: This group of questions deals with biological situations. Each situation is followed by a set of questions. Select the best answer for each question.
Below is an experiment on 
photosynthesis.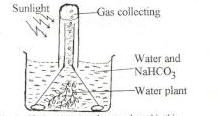 How can you test the gas released in this experiment?
A: It turns lime water milky
B: It has no effect on lime water
C: It is readily absorbed by pyrogallic acid.
D: It rekindles a glowing splint.
Below is a set up for an experiment on respiration.



The paraffin oil,
A: Prevents entry of atmospheric oxygen
B: Prevents entry of atmospheric nitrogen
C: Prevents evaporation of glucose suspension.
D: Prevents entry of atmospheric carbon dioxide.

The following results were obtained during an investigation on the action of salivary amylase on the digestion of starch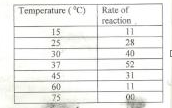 From the above results, the optimum 
temperature for the reaction is
A: 15
B: 30
C: 45 
D: 37
A seedling transplanted on a hot, windy day 
withers
A: Because the air is dry.
B: Because the seedling looses more water 
than it can absorb.
C: Because wind carries the water faster.
D: Because the roots have not adequately 
penetrated the soil.
A bean seedling was placed in such a way that 
the auxins migrated to the lower side of the 
root and shoot. What is the effect of the high 
auxin concentration on the shoot?
A: Retards growth.
B: Causes the shoot to grow toward the soil.
C: Promotes faster growth.
D: Causes the shoot to bend away from light.
This question refers to the graph below.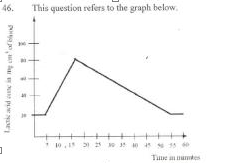 Assuming that the normal level of lactic acid in blood is 2omg/cm3 of blood. How long did it take to return to normal?
A: 40 minutes
B: 45 minutes
C: 55 minutes
D: 50 minutes
If the total amount of energy from the sun is estimated at 10485KJ and only 10% is used by the producers. What amount of energy is received by the producers?
A: 104850KJ
B: 10485KJ
D: 104.85KJ
D: 1048.5KJ

The experiment below was used to test for the presence of starch in a leaf. Why is the leaf boiled in alcohol in the above experiment?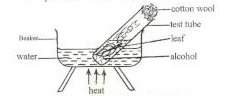 A: to make the leaf soft and brittle.
B: to remove chlorophyll from the leaf.
C: to burst open the starch grains on the leaf.
D: to make the leaf brittle and hard.

Which of the following reagents will stain pink red when mixed with groundnut oil?
A: Benedict's solution
B: Fehling's solution
C: Sudan III
D: Millon's reagent

What colour will be observed when Fehling's solution is added to ground germinating maize seed paste and heated?
A: Blue
B: Purple
C: Brick rcd
D: Violet.

Kamerpower est un hub pour les étudiants, les demandeurs d'emploi et l'annuaire des bourses d'études. Le site fournit des informations informatives gratuites concernant les concours, des opportunités éducatives, Universités, Résultats, Jobs, Stages, Épreuves, Conseils etc, Le meilleur endroit informatif au Cameroun, l'Afrique et africains dans le monde entier.