School of Geology and Mining Engineering (EGEM) Entrance 2021-2022 1st year: University of Ngaoundere
School of Geology and Mining Engineering (EGEM) Entrance 2021-2022
REPUBLIC OF CAMEROON
Peace – Work – Fatherland
MINISTRY OF HIGHER EDUCATION
SECRETARIAT GENERAL
ORDER N° 19-00604 MINESUP/SG/DAUQ/SDEAC/SE OF 26 JUNE 2020
Announcing a Competitive Entrance Examination and fixing the number for Admission into the first year of the School of Geology and Mining Engineering (EGEM) of the University of Ngaoundere, for 2021/2022 academic year. kamerpower.com
School of Geology and Mining Engineering (EGEM) Entrance 2021-2022 1st year: University of Ngaoundere.
ORDERS AS FOLLOWS:
Article 1 : The public is hereby informed that:
Students of "Baccalauréat" (series C, D, E or F1).

the General Certificate of Education Advanced Level (GCE "A" Level) in at least three science subjects, and the GCE "0" Level, or any other equivalent certificate recognized by the Ministry of Higher Education.

"Religious Knowledge" is not taken into consideration.
A competitive entrance examination for the recruitment of two hundred and twenty five (225) students into the first year of the School of Geology and Mining Engineering (EGEM) of the University of Ngaoundere has been launched with at BAMENDA, BAFOUSSAM, DOUALA, NGAOUNDERE and YAOUNDE. A vailable places are as follow: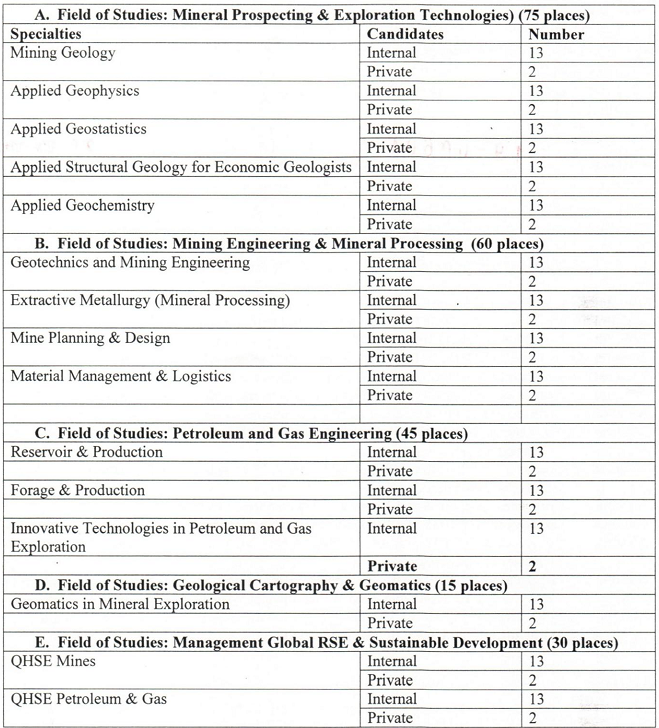 Article 3 : The written phase of the Competitive Entrance Examination includes the following subjects for all specialties:
Mathematics, coef 3 – 2 hours.
General Knowledge, coef 2 – 2 hours. 
Physics & Chemistry, coef 3 – 2 hours.
The examination syllabuses are those used in classes preparing for the "Baccalauréat" C, D, E and FI or GCE "A" level in Mathematics, Physics and Chemistry.
Article 4:
(1) Students on awaiting results will be declared admitted on success in the written exams, and presentation of the original certificate obtained in 2019, or presentation of success testimonial at the time of registration.
There will be no oral exams.
(2) Candidates from Central African Economic and Monetary Union (CEMAC) member countries where texts on national treatment of students have been ratified and who are holders of required qualifications are eligible to write the entrance examination under the same conditions as their Cameroonian counterparts. kamerpower.com
(3) Candidates from other countries including CEMAC member countries who do not write the entrance examination but hold a scholarship from their government or an International Organization may apply for direct admission, which is contingent upon the number of available places and payment of tuition fees according to their status.
Kamerpower est un hub pour les étudiants, les demandeurs d'emploi et l'annuaire des bourses d'études. Le site fournit des informations informatives gratuites concernant les concours, des opportunités éducatives, Universités, Résultats, Jobs, Stages, Épreuves, Conseils etc, Le meilleur endroit informatif au Cameroun, l'Afrique et africains dans le monde entier.
Version Français (French)