US Embassy Job offer Cameroon: Sub-Cashier/NIV Clerk
US Embassy Job offer Cameroon: Sub-Cashier/NIV Clerk
US Embassy Job offer Cameroon: The U.S. Mission in Yaounde, Cameroon is seeking eligible and qualified applicants for the position of Sub-Cashier/Non-Immigrant Visa (NIV) Clerk. This position is located in Yaounde, Cameroon. kamerpower.com
Position: sub-cashier/NIV clerk
Closing date: May 12, 2016 at 16:00
Work hours: full time, 40 hours/week
Basic function of position: US Embassy Job offer Cameroon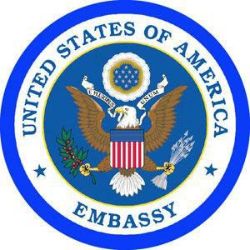 Under the direct supervision of the Consular Specialist, incumbent acts as the primary Sub-Cashier for the Consular Section. He/She collects cash and credit card transactions for fees for consular services from the general public and provides support to the NIV process by explaining procedures to be followed by the public, pasting printed visas, and passing back passports with visas. kamerpower.com
Detailed Duties and Responsibilities for Sub-Cashier/NIV Clerk
a) 40% of time
Incumbent is primary Sub-Cashier for the Consular Section. Collects fees in cash and cash instruments from the public in accordance with consular regulations and instructions of supervisor. Is personally accountable for all funds received, makes change from cash advance received from Principal Class B Cashier. Records all transactions and obtain appropriate signatures. At end of the day, balances accounts and delivers money and records to Principal Class B Cashier for reconciliation.
b) 20% of time
Incumbent is the principal person managing the front consular window to meet the public. Serves as first point of contact for all consular clients. Receives documents, answers queries from clients, explains procedures to be followed and provides guidance to customers. Routes customers to the appropriate person in the consular section as needed.
c) 40% of time
Incumbent is a non-immigrant visa clerk, one of two local employees in the Non Immigrant Visa Unit. Receives passports and visa applications, sort them out to arrange them chronologically according to the Q-Matic numbering for FSO interview. After the NIV Assistant prints the visas, incumbent pastes them in passports making sure they are error free and that the visa validity matches with the reciprocity fees paid, and then passes back visa'ed passports to customers.
Qualifications required – US Embassy Job offer Cameroon
Applicants must address each required qualification listed below with specific and comprehensive information supporting each item. Failure to do so may result in a determination that the applicant is not qualified.

A GCE "A" level or equivalent diploma is required.

At least two years of prior clerical accounting or bookkeeping experience with at least one year managing cash in an international organization or large local institution is required.

Level 3 (Good Working Knowledge) Speaking/Reading/Writing of English and level 2 (Basic Knowledge) Speaking/Reading of French is required. (This will be tested.) kamerpower.com
The applicant must be able to function honestly and effectively while processing cash and cash items; must be able to understand and apply the processes of checks and balances in processing cash items; must be able to read and apply specific guidance material; must be able to operate or learn to operate an electronic cash register; must have excellent communication skills and be able to use tact and diplomacy in dealing with angry customers. (This will be tested.)

The applicant must have a general understanding of the concept of the need to establish controls over the custody and processing of large amounts of cash and the concept of principal accountability; must have knowledge on how to deal with the general public; must be familiar with basic travel documents such as a passport.
Applicants must submit the following documents to be considered. Failure to do so may result in a determination that the applicant is not qualified.

Universal Application for Employment (UAE) (Form DS-174), which is available on our website or by contacting Human Resources. (See "For Further Information" above);




Any additional documentation that supports or addresses the requirements listed above (e.g. transcripts, degrees, etc.) kamerpower.com
Where to apply: US Embassy Job offer Cameroon
Human Resources Office:
P.O. Box 817, Tel.: 222-201-500, Ext 4006, U.S. Embassy Yaoundé, Cameroon
E-mail Address: ydeapplicants@state.gov (Please, indicate the title of the position on the "Subject:" line)
US Embassy Job offer Cameroon: Sub-Cashier/NIV Clerk
Kamerpower est un hub pour les étudiants, les demandeurs d'emploi et l'annuaire des bourses d'études. Le site fournit des informations informatives gratuites concernant les concours, des opportunités éducatives, Universités, Résultats, Jobs, Stages, Épreuves, Conseils etc, Le meilleur endroit informatif au Cameroun, l'Afrique et africains dans le monde entier.